Accords du Plaza
Wikipedia : Les accords du Plaza sont un accord sur les taux de change signé le 22 septembre 1985 entre les États-Unis, le Japon, la RFA, le Royaume-Uni et la France (c'est-à-dire le G5).

Ces pays acceptent, entre autres choses, d'intervenir sur le marché des changes afin de déprécier le cours du dollar américain par rapport à ceux du yen et du Deutsche Mark.

Les accords ont été signés au Plaza Hotel à New York.
1985 ou le début de la giga bulle japonaise :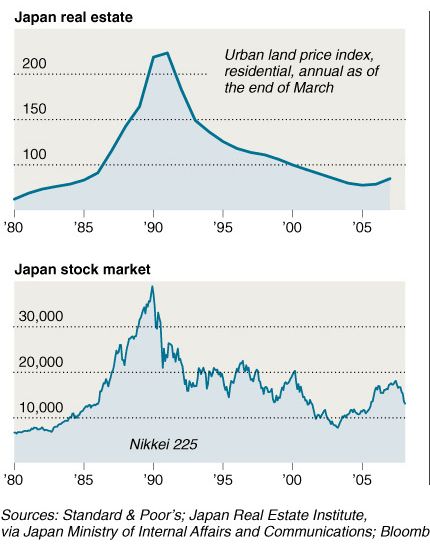 Japanese asset price bubble
Wikipedia : In the decades following the Second World War, Japan implemented stringent tariffs and policies to encourage people to save their income. With more money in banks, loans and credit became easier to obtain, and with Japan running large trade surpluses, the yen appreciated against foreign currencies. This allowed local companies to invest in capital resources much more easily than their competitors overseas, which reduced the price of Japanese-made goods and widened the trade surplus further. And, with the yen appreciating, financial assets became very lucrative.

One of the major reasons for the sudden appreciation of the yen was the Plaza Accord

.
China Central Bank Says It Is "Fully Prepared For Looming Currency War"
ZeroHedge, 02/03/2013 (traduire en Français
)
→ lien
Yi, vice governor of the People's Bank of China, made the comment amid widespread concerns that the world's major economies would drive down their units to gain a trade advantage through monetary easing policies.

A currency war could be avoided, Yi said, if policymakers in major countries observed the consensus, reached at the recent G20 meeting, that monetary policy should primarily serve as a tool for domestic economy.

G20 members promised that they would not wage a currency war, but none have shown signs of scaling back monetary easing that has injected a flood of cash into global markets. They worry that removing the stimulus will plunge their economies into another recession.

"China is fully prepared," Yi said. "In terms of both monetary policies and other mechanism arrangement, China will take into full account the quantitative easing policies implemented by central banks of foreign countries."